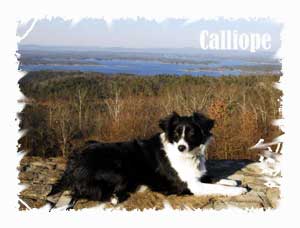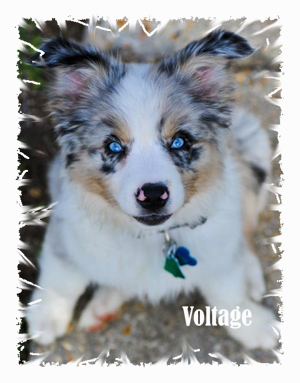 Wisdom Kennels is a small family operation occasionally providing high-quality pets for sale. We are not in the "kennel business" but are animal lovers, SPCA and Humane Society supporters, who share a passion for Australian Shepherds and are working on creating a very special smaller-than-average version of one of the world's smartest dogs.
Our animals are hand-raised in a house and are acclimated to both inside and farm life.
There are many Aussie breeders out there, but very few miniature Aussies, and among those, even less who actually have AKC-registered Aussies that are minis. We recently found a stud for our toy-size AKC-aussie, Luna. The stud is not AKC but NASD registered, so we dual-registered Luna as NASD so this upcoming litter will be NASD-registerable but also have an AKC pedigree on the mother's side.
Mini-aussies make wonderful pets, or could be used in shows or obedience trials. Our mini-Aussies are particularly acclimated towards pet life. We do not dock tails - which is also rare among Aussie breeders. We do not feel tail docking is humane or necessary.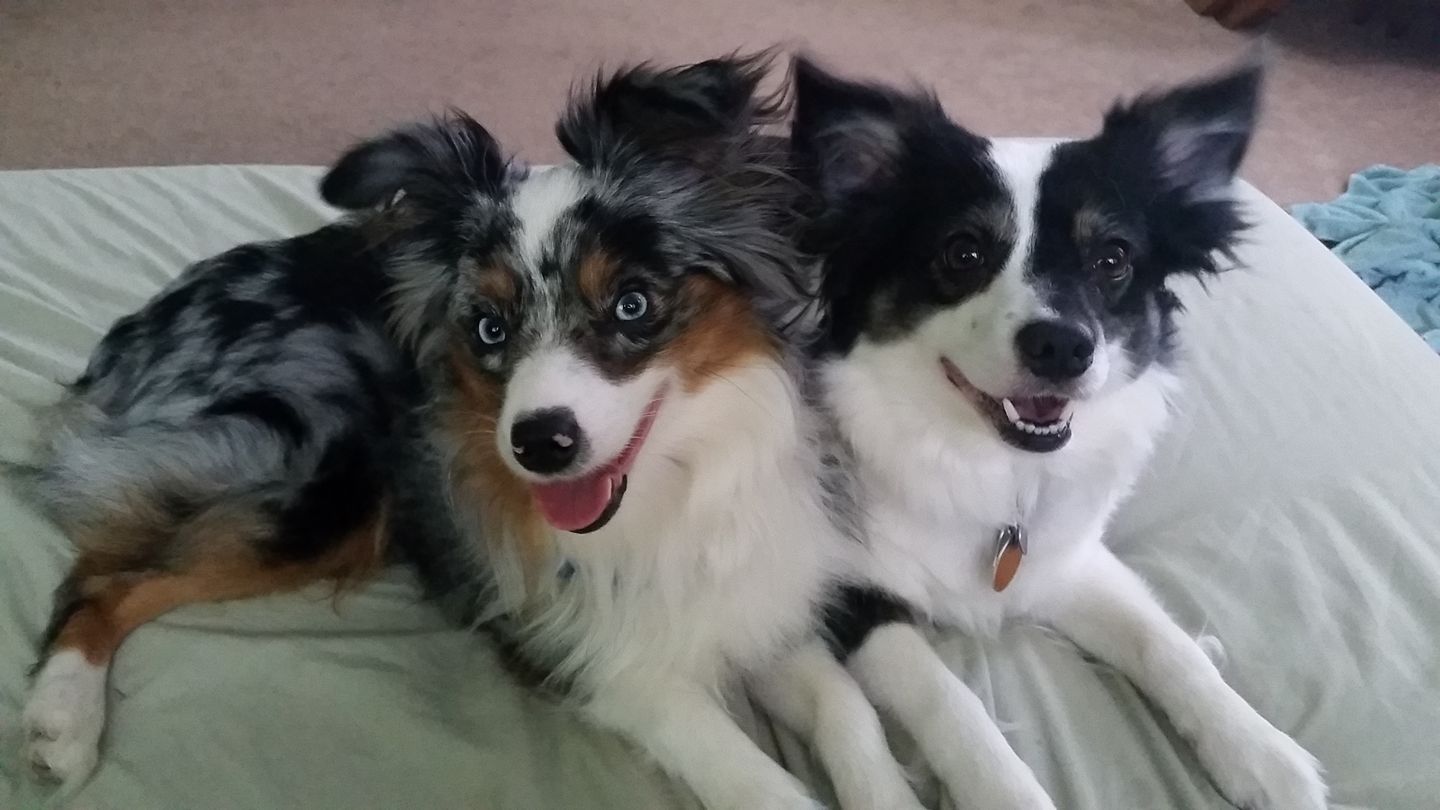 Our latest couple is Luna, a puppy from an early litter of Voltage and Calliope, along with an amazing blue merle male with two blue eyes that is even smaller, named Beaux. Above are the two of them together. She weighs 10 pounds and he weighs 9 pounds.

Happy Birthday! Our puppies were born 5/26/2018
Five gorgeous, healthy puppies! Check our mini-aussie facebook page for additional info, pictures and videos. ALSO We are regularly running our LIVE PUPPY CAM - Tune in on the PinChurch YouTube channel during the day to see the puppies LIVE!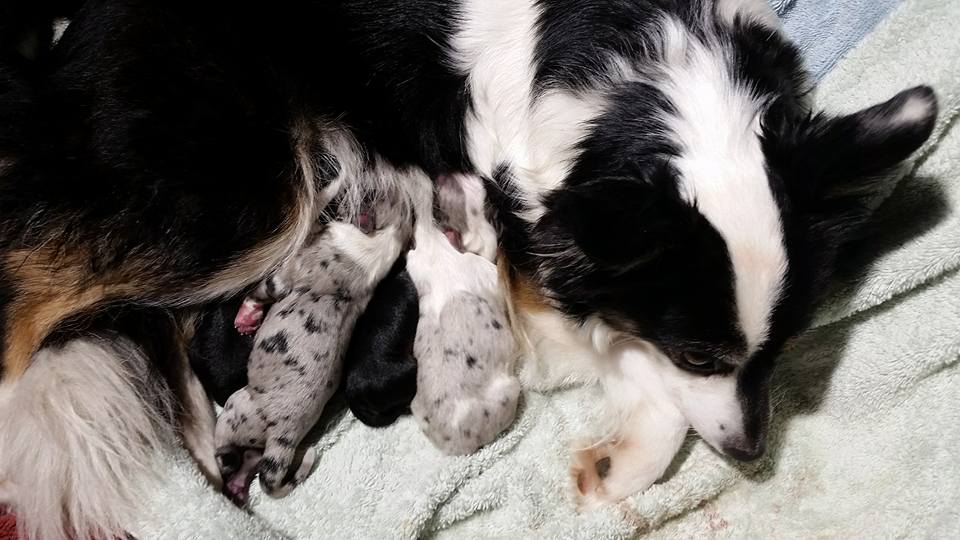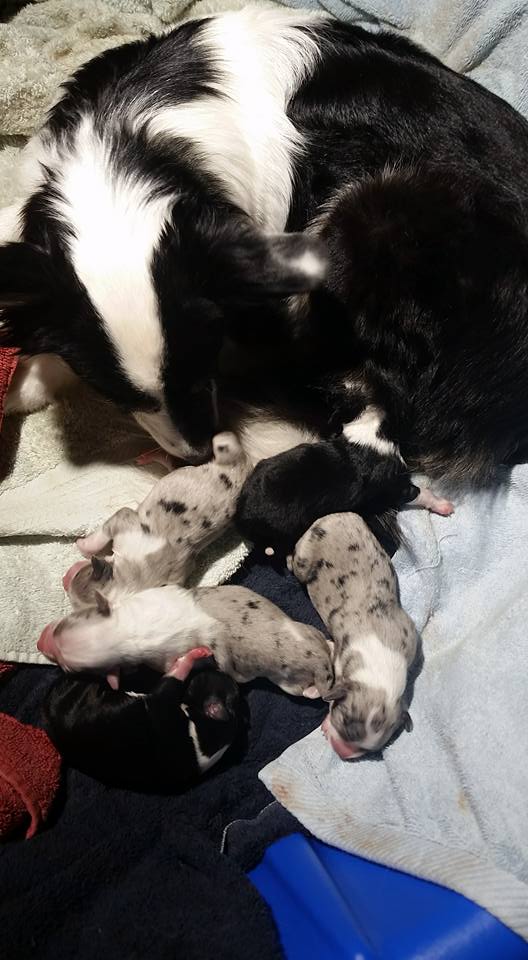 ---
PUPPY STATUS: 5 healthy puppies born 5/26/18.
Here's the breakdown on the litter:
1 "Ozzy" - Black/white (possibly w brown trim) male, (RESERVED)
2 "Sweet Pea" - Black/white (possibly w brown trim) female, (RESERVED)
3 "Dinah" - Blue Merle female, (RESERVED)
4 "Princess" - Blue Merle female, (RESERVED)
5 "Flash" - Blue Merle male, (RESERVED)
Latest pictures and details will be posted here: https://www.facebook.com/laminiaussies/
The puppies are doing great! The last puppy, the blue merle male is the "miracle puppy" that came out feet first and almost didn't make it, and needed a little hand being born, but he's doing great. The Merles all have amazing markings and will be very silvery. More details on their sizes and personalities will be posted soon. There are more pictures on the Facebook group, "Louisiana Mini Aussies."
RESERVATION STATUS: No reservations taken yet - the puppies are just days old. Right now we may have the pick of the litter reserved, so no reservations are going to be taken until we make that determination. We usually don't take reservations for at least a few weeks to make sure the puppies are completely healthy. Expect us to begin the reservation process mid-June. If you are interested in a puppy and want to be notified of their status, pricing and availability, put your name on our mailing list at the end of this page, and also check the facebook group.
---
ABOUT THESE PUPPIES - WHY ARE THEY SPECIAL or DIFFERENT?
Our puppies are priced differently because they are different.
1. These come from very pure bloodlines. Our Dam is 100% AKC-registered as a bona fide Australian Shepherd, even though she is a mini/toy. She has not been bred from a non-aussie to be small. She is 100% Aussie.
True Aussies are known to be a very long-lived, robust and healthy breed.
2. We DO NOT DOCK TAILS.
ALL normal healthy Aussies are born with tails - don't let breeders lie to you and say they're born that way. Docking tails is NOT a REQUIREMENT of the breed standard even though some breeders say otherwise and claim anyone who does not amputate their pet's tails is a "disreputable breeder" - that's BS. Studies have shown that puppies without docked tails are more healthy. http://www.notailleftbehind.com/2013/06/breeders-who-choose-not-to-dock-tails.html
We cannot and will not amputate a critical appendage of our animals for the sake of appearance. And once you see the puppies you'll see how critical and important their tails are. It's hard to find breeders who will keep their tails. We catch a lot of flack from the community over this, but it's in the best interests of the animals.
3. Our puppies are uniquely adaptable
Traditional aussies and border collies are notorious for requiring large amounts of activity and aren't always suited for more urban life. Our puppies have proven to be uniquely adaptable to both work life as well as low level urban living, even being an "inside dog" that doesn't need to be walked. They're incredibly smart - some of the smartest dogs you'll ever encounter, great with children, other animals, great watchdogs, and gentle and kind.
NOTE: Within one day of taking reservations on the last litter of puppies we sold them all in less than 24 hours. Thanks to everybody who expressed interest. We had more demand than puppies. We anticipate this may be the same situation with this litter, so be sure to check the Facebook page for updates and in mid June we'll start talking about reservations.
PRICING
Prices are not set yet - this will be TBA, but for reference purposes, our past puppies have sold for $800-$2000 (black/whites lower, blue merles higher, red merles highest, two blue eyes higher, and females sell for more than males). If you are interested in seeing the puppies, contact mike@wisdomkennels.com or PM here on this group. We are located in Metairie, LA and can arrange visitation of the puppies. Any other questions, let us know!
If you are interested in seeing any of the puppies, e-mail info@wisdomkennels.com or PM us on our Louisiana mini aussie Facebook Page. You can also see more recent pictures and full videos of the puppies on the Louisiana mini aussie Page.
The puppies will be ready for their new homes in Late June-July!
Contact us if you wish to arrange to see the puppies in person in Metairie, LA.
---
If you want to be notified of new puppies, scroll down and add your name/e-mail to the form at the bottom of this page!
No individual puppy pictures yet - stay tuned!
No deposits will be taken yet, but feel free to contact us and express interest. Prices are to be determined. These puppies will be available for their homes after ~6+ weeks. Prices will probably start at $800+. The Red Merle female will be the most sought after and the most expensive - we're waiting for them to grow a little before allowing deposits and determining prices. However, seriously interested parties may be able to visit the express interest in a particular puppy - contact us at info (at) wisdomkennels [period] com or at the bottom of the page.
---
Pictures from past litters:

Mini aussies Louisiana litter 1
Puppies from second litter see: Louisiana mini australian shepherds litter 2
Puppies from third litter see: Louisiana mini australian shepherds litter 3
Puppies from fourth litter see: Louisiana mini australian shepherds litter 4
Puppies from fifth litter see: Louisiana mini australian shepherds litter 5


New owners are sharing pictures of their babies at this facebook page: Louisiana Mini Aussies and their happy owners
If you would like to be notified of our next litter, sign up here:
---