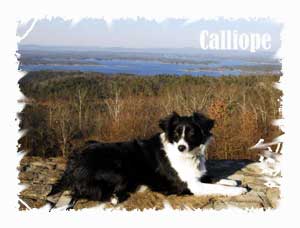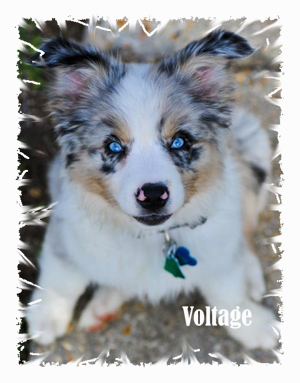 Wisdom Kennels is a small family operation occasionally providing high-quality pets for sale. We are not in the "kennel business" but are animal lovers, SPCA and Humane Society supporters, who share a passion for Australian Shepherds and are working on creating a very special smaller-than-average version of one of the world's smartest dogs.
Our animals are hand-raised in a house and are acclimated to both inside and farm life.
There are many Aussie breeders out there, but very few miniature Aussies, and among those, even less who actually have AKC-registered Aussies that are minis.
Our dogs are fully-registerable with all the major registries, but are by default, AKC Australian Shepherds. These dogs are compatible with a new up and coming breed recognized by the AKC as "Mini-American Shepherds." You have the maximum number of options with these amazing animals. They make wonderful pets, or could be used in shows or obedience trials. Our mini-Aussies are particularly acclimated towards pet life. We do not dock tails - which is also rare among Aussie breeders. We do not feel tail docking is humane or necessary.
Here are puppies from the third litter, born Janurary 29th 2015 - all puppies are sold, but these will give you an idea of what we have available.
Happy Birthday to our Puppies! January 29th, exactly as predicted!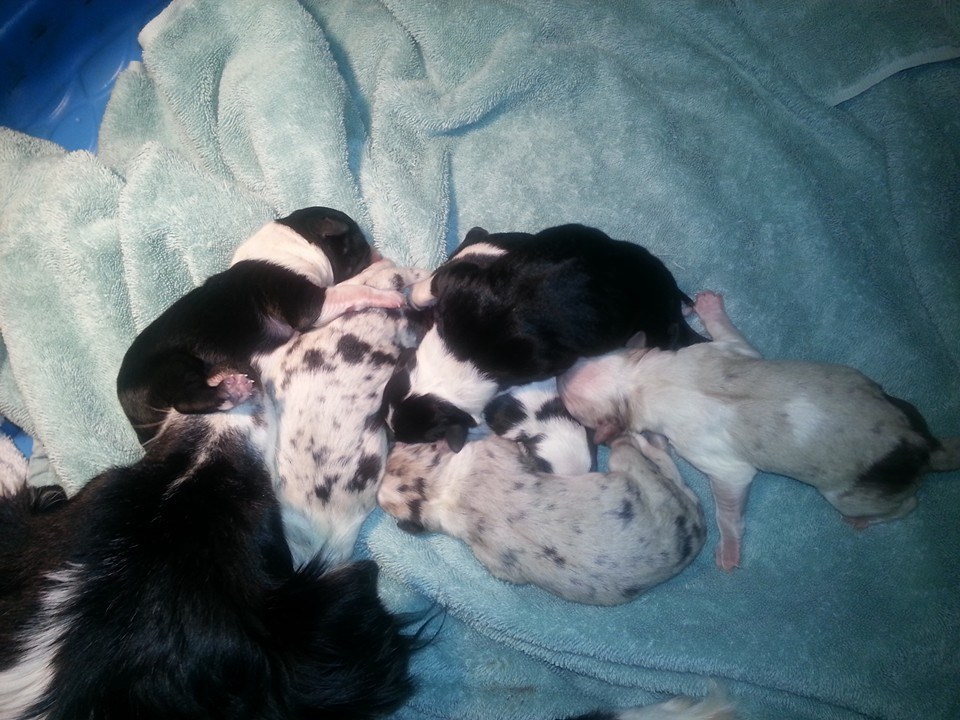 We have 3 black/white bi-color, 2 blue merles, 1 red merle. More details will be published soon. Check our facebook page for more pictures and video!
Taking deposits and resevations on the puppies mid-to-end of February.
The litter consists of: 2 black/white bi-color males (white collar - will look like the mother), 1 black/white bi-color female with a little more white around, one of the smaller pups in the litter, 2 blue-merles both male, one is smaller than the other with smaller markings - both are very beautiful and symmetical and will probably end up silvery to silvery-brown in their colors, and 1 red merle female - largest puppy in the litter, very active and vocal with a prominent personality.
We are looking to keep one of the smaller puppies from the litter for future breeding, so we've been waiting to see how they develop before taking reservations. Some puppies we will take reservations on sooner than others. The two black/white bi-color males can be reserved now for $800 each. The merles will be more, probably in the $1200+ range, and the red merle will be $1600. (+$200 for any puppy to convey breeding rights)
sign up below to be notified when the puppies are avilable and/or reserved. Check the Facebook page for pictures and details as well. <== Many more pictures on the Facebook page!
Latest pictures of the puppies at 6 weeks on Facebook!
Puppies for sale / deposits / reservations taken in the next few weeks - contact us at info@wisdomkennels if you want to reserve a puppy or come visit in Metairie.
Our puppies are AKC registered as regular Australian Shepherds but are typically smaller, from normal to mini to a little above toy-sized. Since we are one of the few breeders that has 100% pure AKC Aussie bloodlines, you're getting the real deal. Plus we do not dock tails! Prices do not include breeding rights - add $200 for breeding rights if desired.
See many more pictures, videos and details on each puppy on our Mini Aussie facebook page!
Puppy #1
Black/white bi-color male, **SOLD** Facebook pics and videos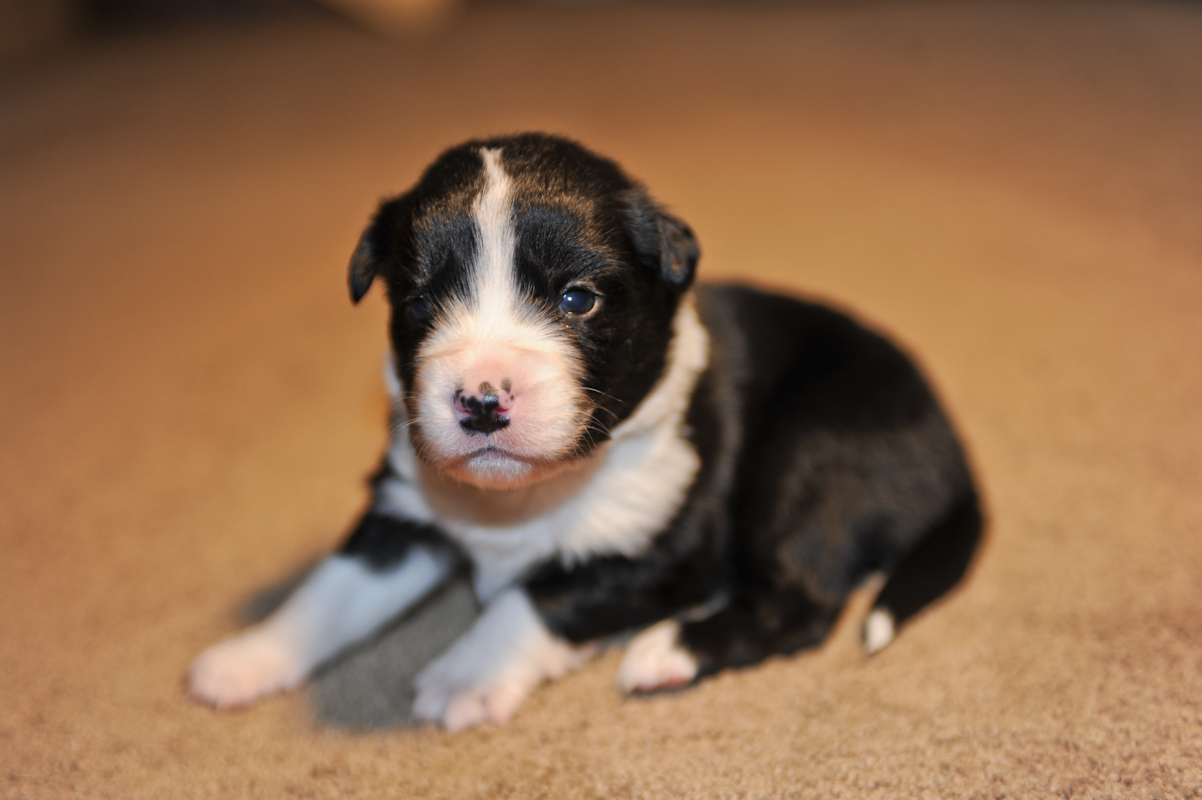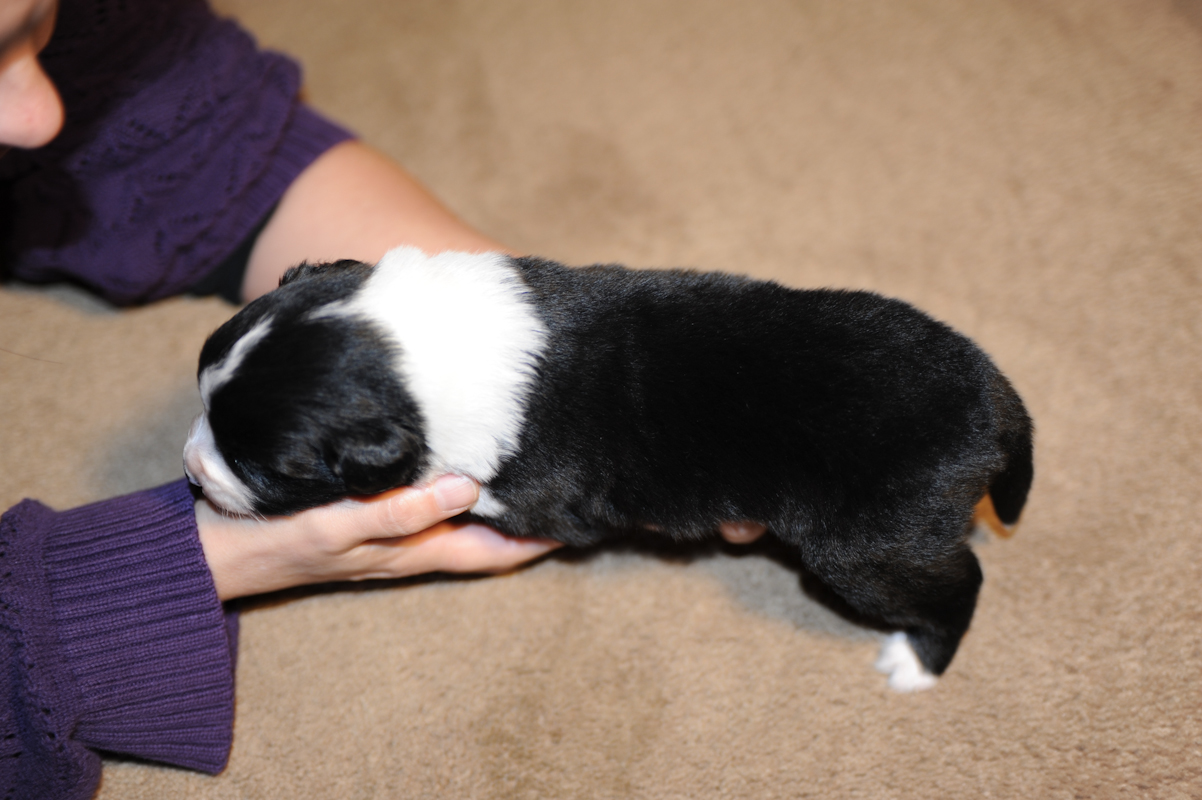 Puppy #2
Black/white bi-color male, **SOLD** Facebook pics and videos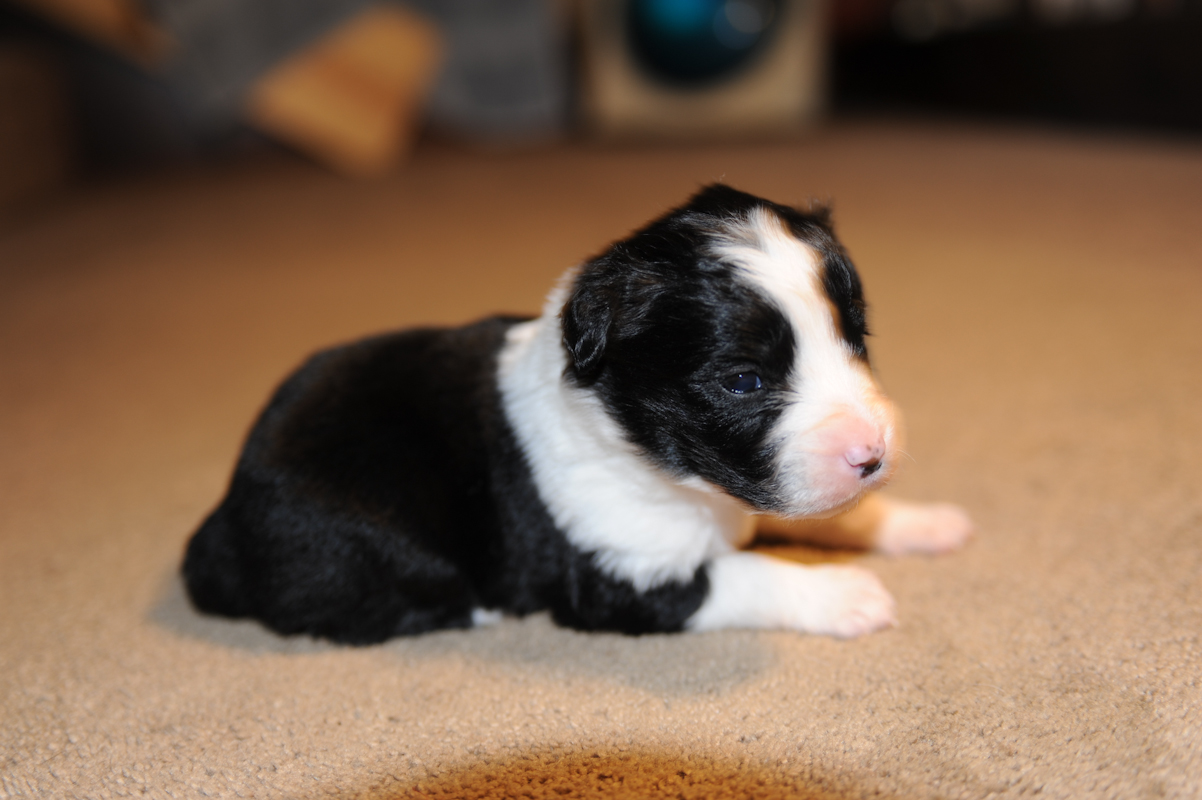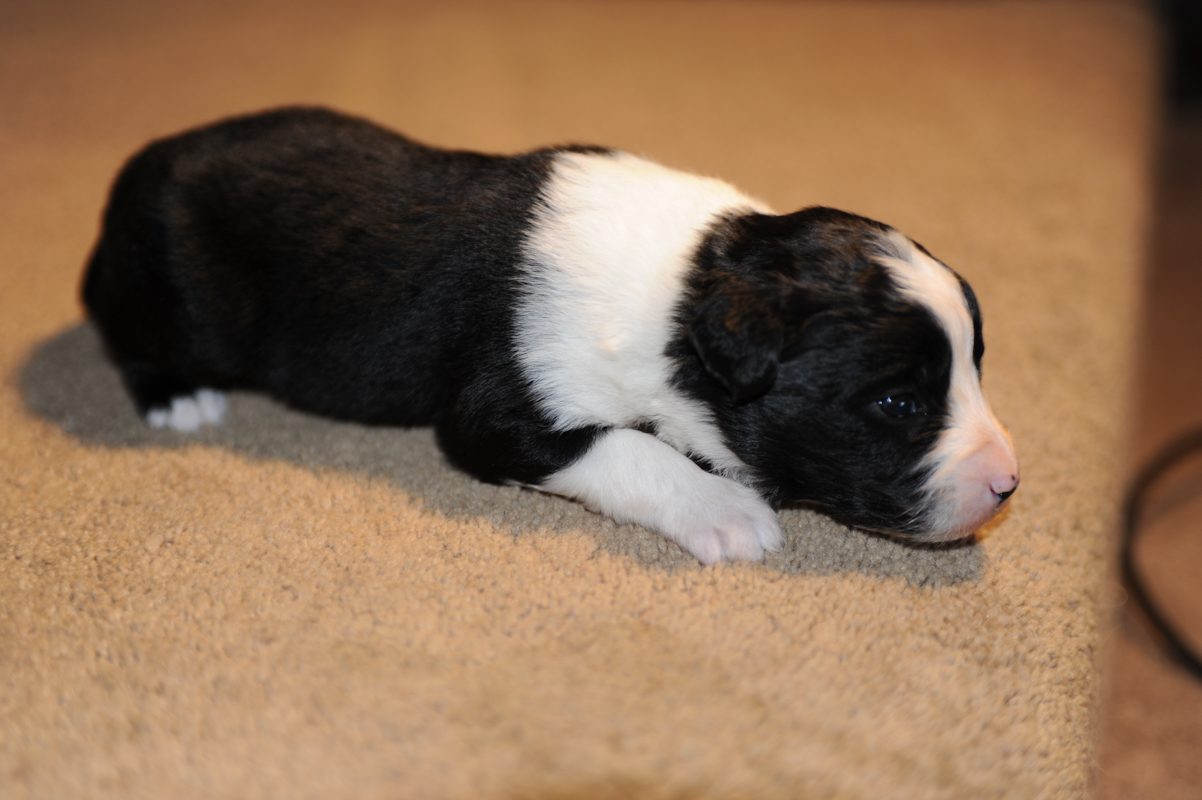 Puppy #3
Black/white bi-color female, $1200 Facebook pics videos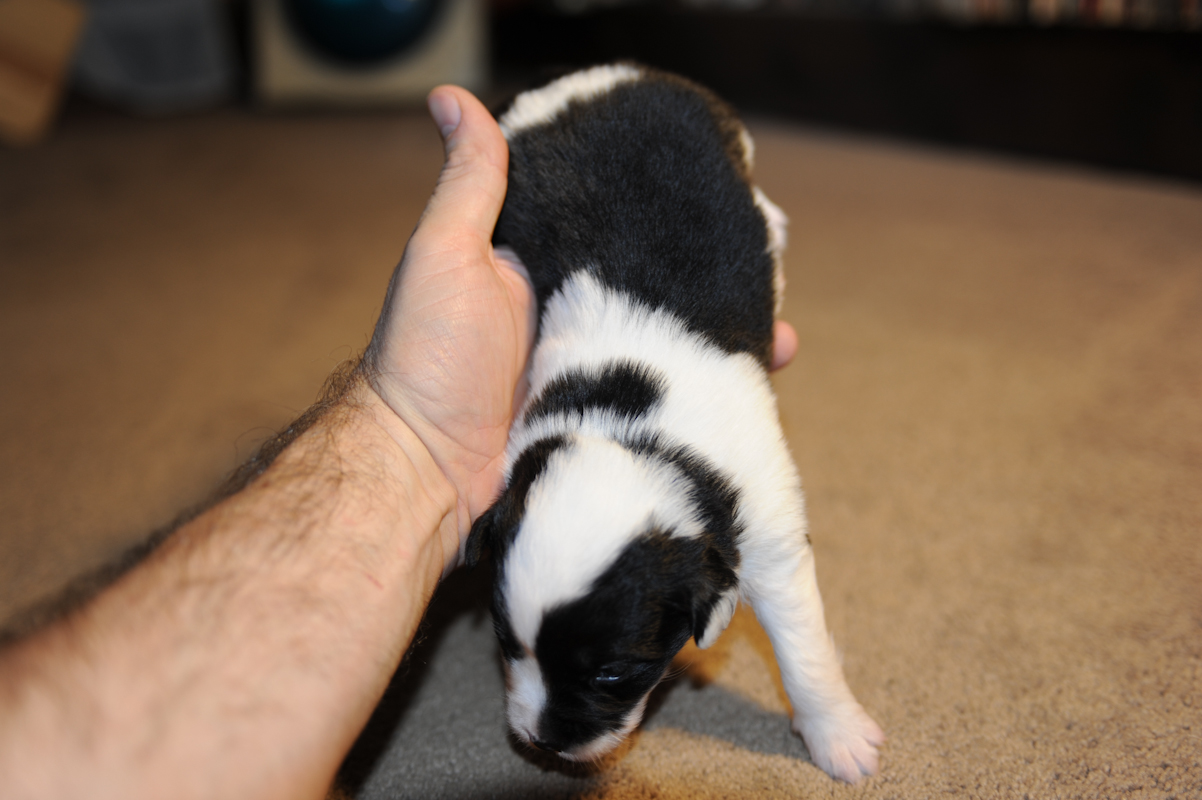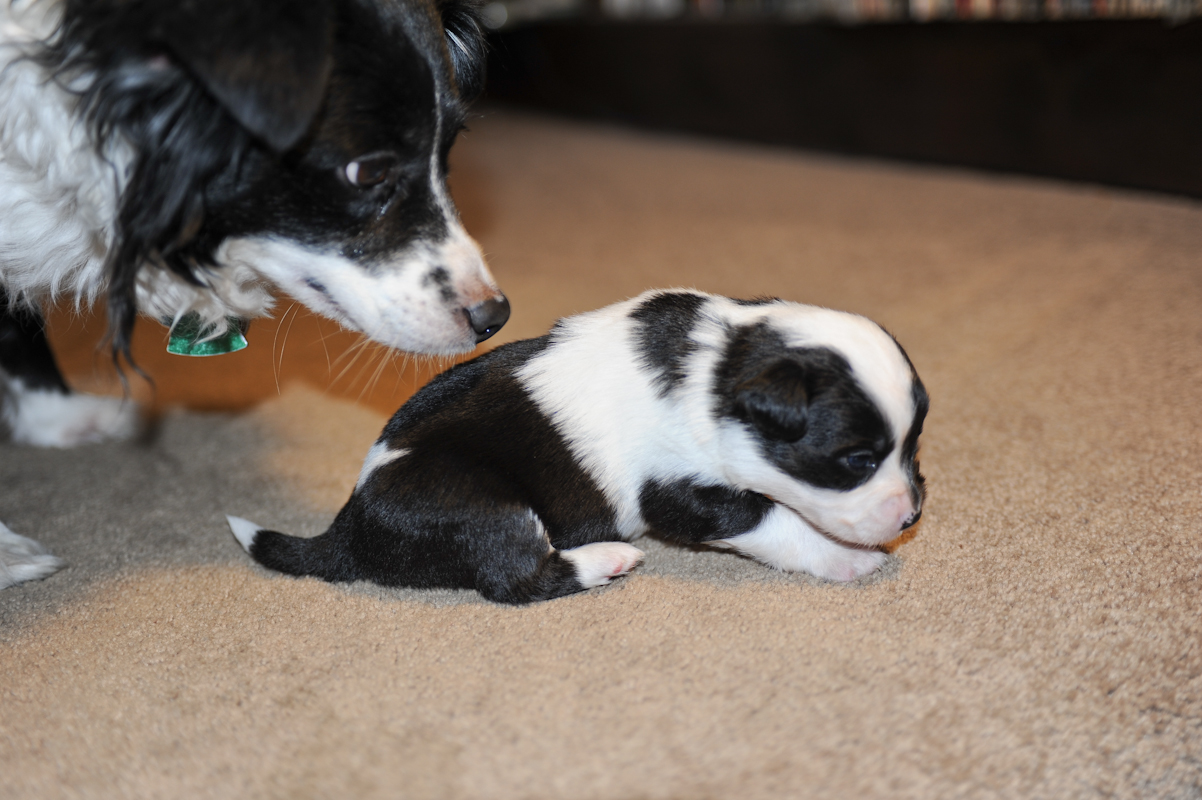 Puppy #4
Blue Merle male, (possible 2 blue eyes), **SOLD** Facebook pics videos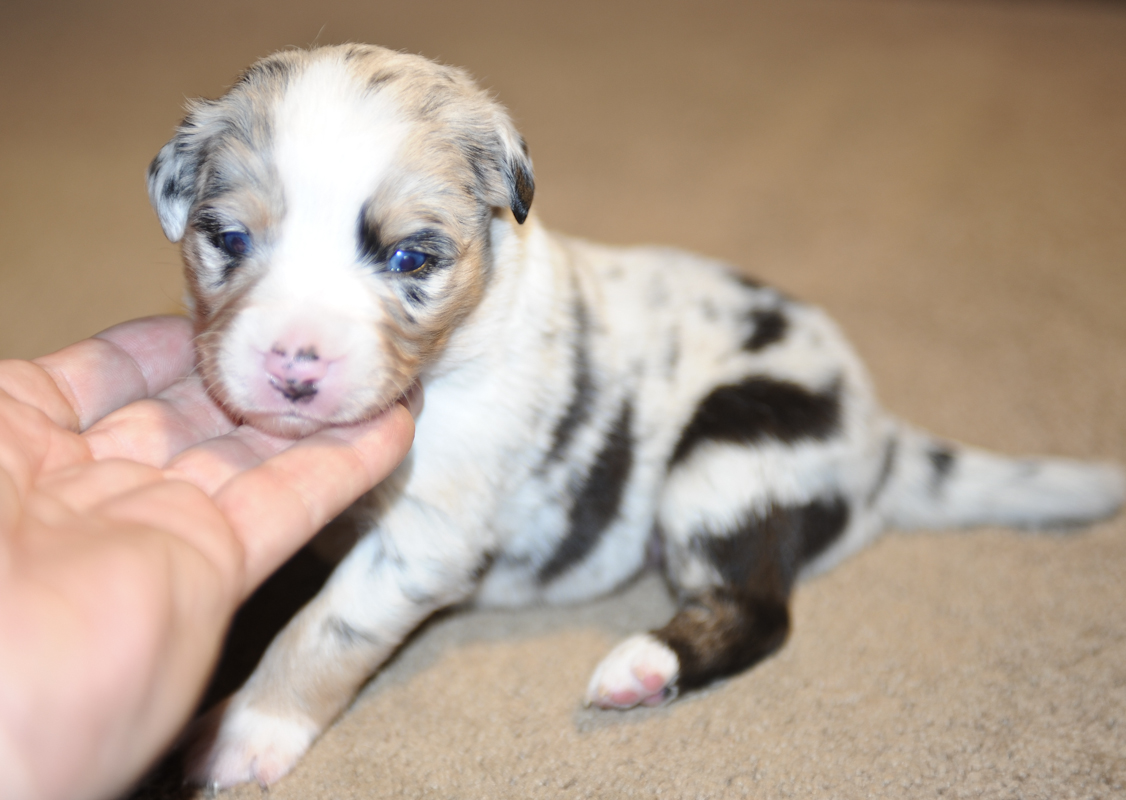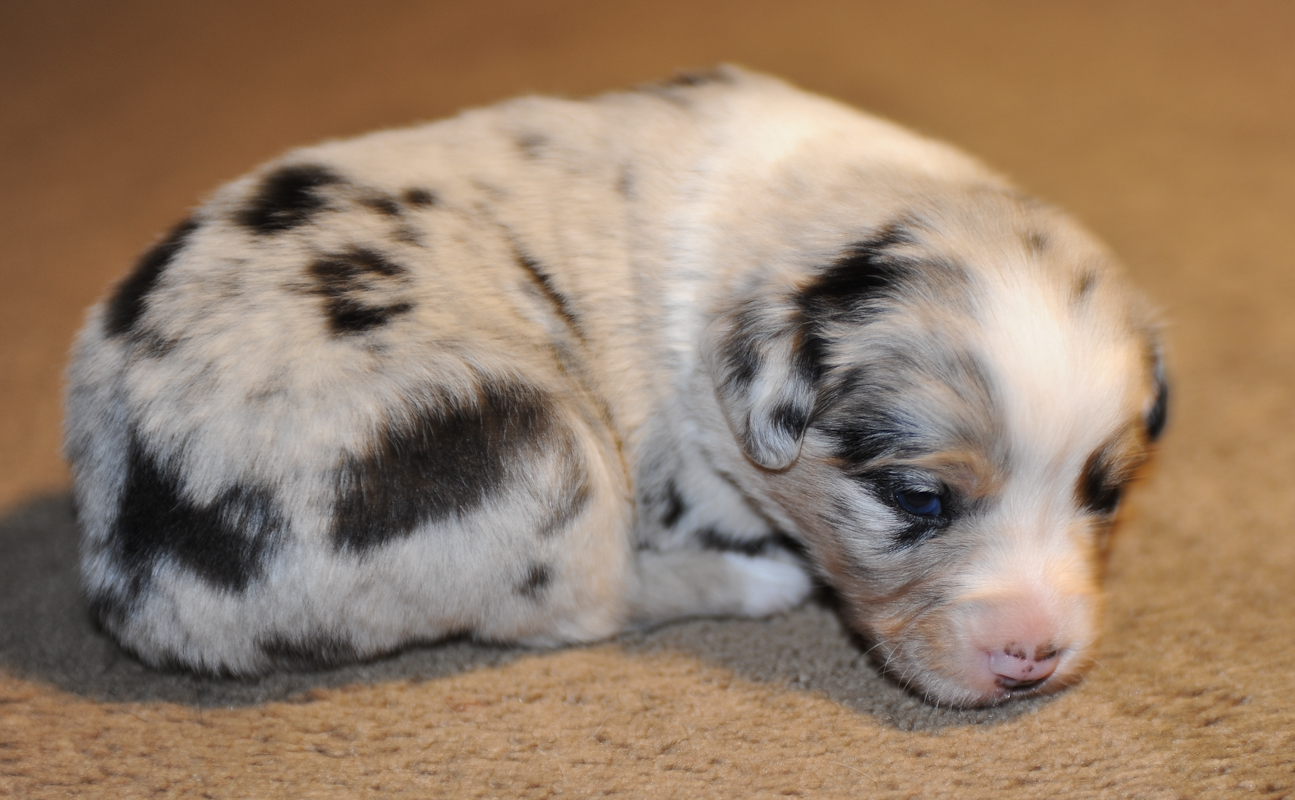 Puppy #5
Blue Merle Male - smallest of litter, posb blue eyes, **SOLD** $1500 Facebook pics videos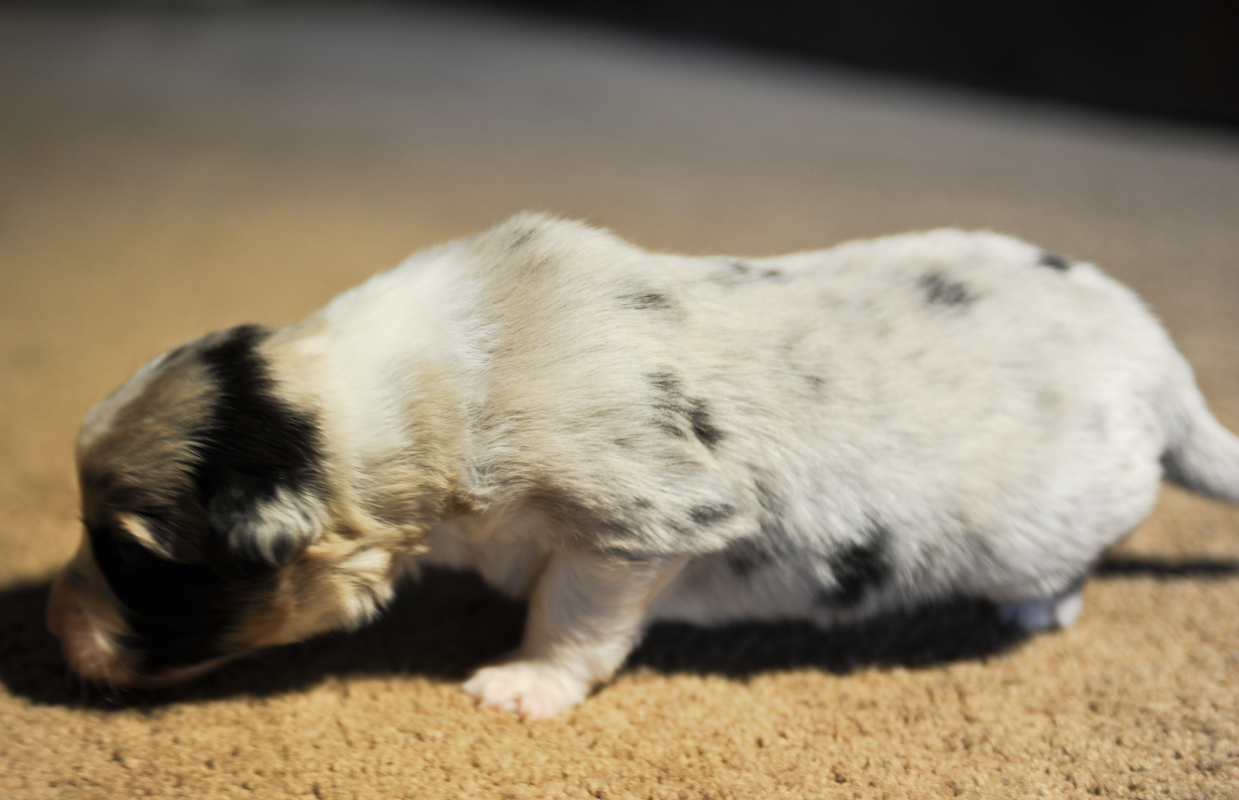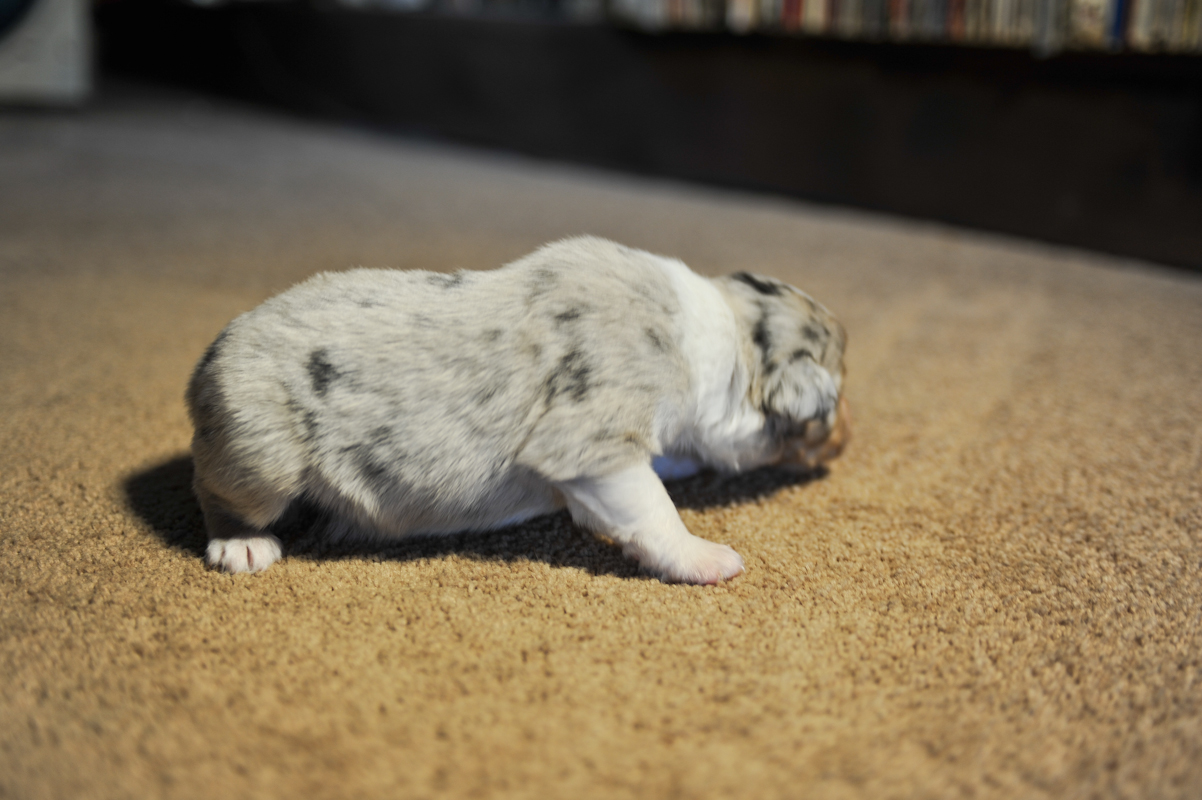 Puppy #6
Red Merle Female, likely 2 blue eyes, alpha, largest of litter, genetic jackpot, $1600 **SOLD** Facebook pics videos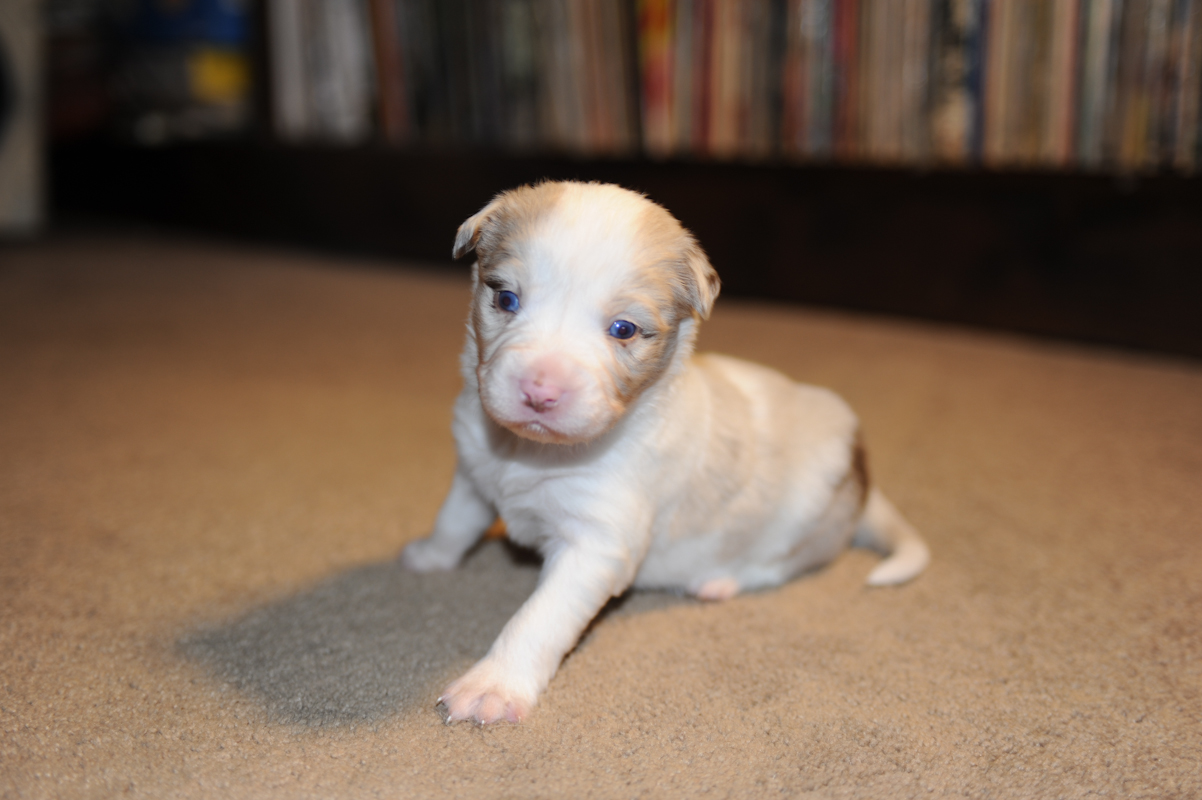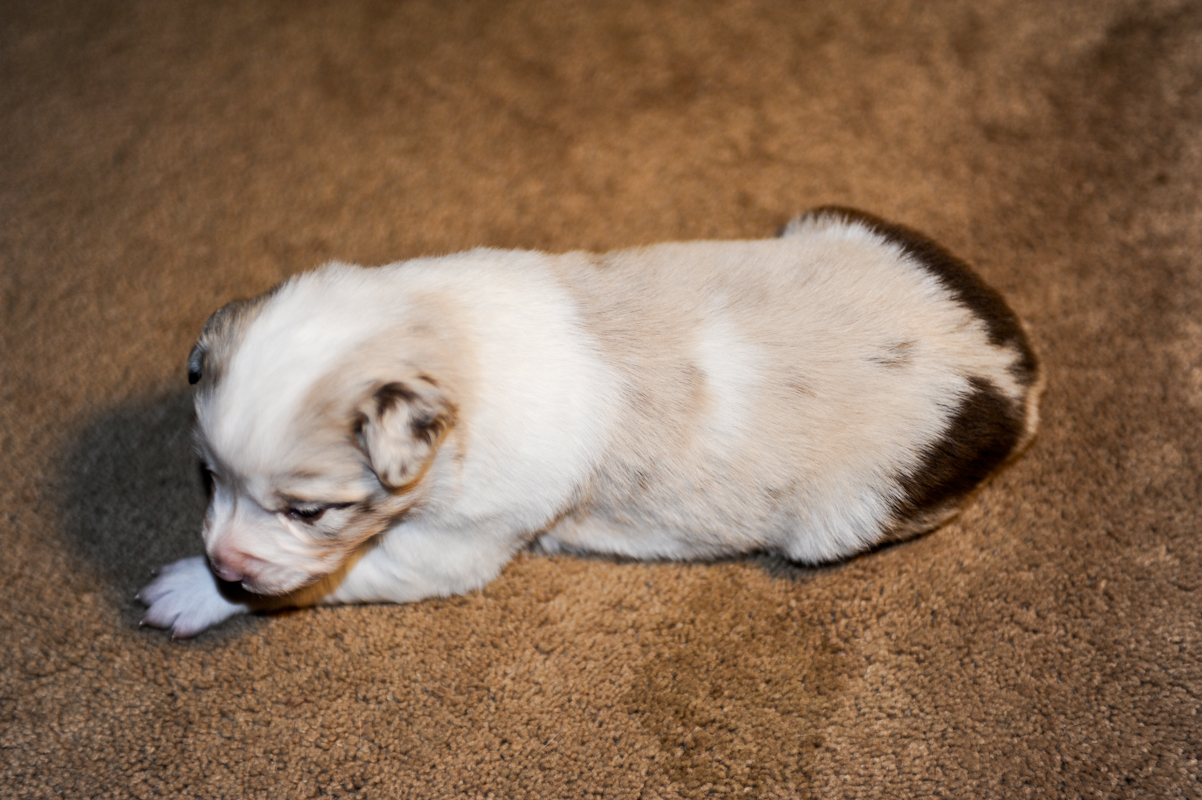 Puppies from first litter see: Mini aussies Louisiana litter 1
Puppies from second litter see: Louisiana mini australian shepherds litter 2
New owners are sharing pictures of their babies at this facebook page: Louisiana Mini Aussies and their happy owners
If you would like to be notified of our next litter, sign up here:
---
More info and pictures: Mini Aussies for sale on Facebook